Water Slide Rentals Foley AL
Water Slide Rentals in Foley Alabama
At Mobile Party Solutions we know Water Slide Rentals Foley AL, and party rental equipment is what we do. Mobile Party Solutions is a family owned and operated local Foley party rental business with laser focus on customer service and making your party or event rental experience easy and totally awesome!
Check out our inventory below, packed full of the best water slide rentals Foley AL you can find plus: combo bouncers, dry slides and water slides, obstacle courses, inflatable games, concessions, dunk tanks, mechanical bulls, tables and chairs, interactive games and more.
Our team at Mobile Party Solutions makes your party planning our priority and we work hard to make sure it is a huge success. We have a strong commitment to our community and safety! This is why we rent high-quality, commercial grade water slides in Foley AL and the surrounding area. Our equipment is always good to go, cleaned and sanitized. Every year we have our rental equipment fully inspected and fully insured to meet or exceed the standards set by The State of Alabama.
You will find we have a large selection of party and inflatable rentals for any type of event. Our party rentals include: backyard parties, school festivals or field days, birthday parties, church events, community events, carnivals, graduation parties for highschool or even college graduation parties, corporate events/retreats and team building exercises, and even HOA events. Let us take the stress out and remember to have fun planning your party.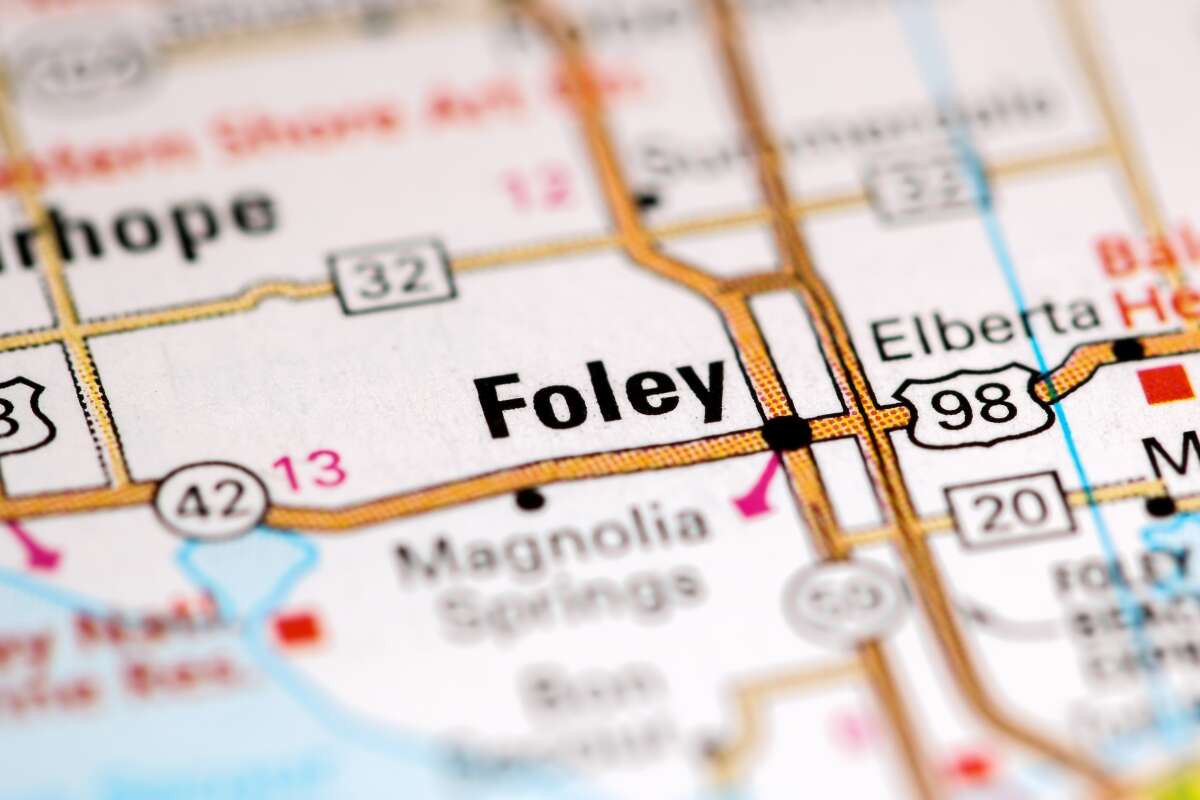 Looking for the Best Water Slide Rentals Foley AL?
Water Slides go by many names and can be found by searching online for things like: "water slide rentals Foley AL", or "water slide near me". Did you know they also can be commonly found as: inflatable water slides, flume, water chute, hydroslide, bouncy slides and so many more? Whatever lingo you choose to use to label these fun inflatable, vinyl slides of magic, we've got them for rent.
Foley Alabama is our home. At Mobile Party Solutions we love our customers, we take each and every rental seriously. With professional precision, we deliver and set up your event to maximize the fun. Whether you have a water slide rental for a simple party or you need entertainment for hundreds of children and/or adults, your event is our event. Rest assured your party rental is in good hands with Mobile Party Solutions. Foley we are your party professionals.
Our friendly staff is ready to assist you in planning your party rental or you can utilize our state of the art booking platform below to start your rental today. It is never too early to make a reservation in advance.
AWESOME! Foley Water Slide Rentals

What is better than spending a day relaxing and having some good 'ole family fun, like a backyard bbq? Nothing! You can only increase the fun and bring the perfect party items. For that, give us a call.
Mobile Party Solutions believes that time with family and friends with smiles is more important than ever. Since COVID-19 we have all learned the heightened importance of quality family time. We can help provide the entertainment during those events. Sometimes that looks like a bounce house with water slides rentals, and other times it's a giant inflatable slide combo bouncer.
#1 Water Slide Rentals in Foley
Looking for the best water slide rentals in Foley? Look no further than our selection of top-quality, affordable inflatable water slides! Whether you need a water slide rental for your child's birthday party or a giant obstacle course for your next corporate event, we've got what you are looking for. Plus, all of our water slides are delivered and set up, on-time by our friendly and professional staff, all over Foley, Summerdale, Elberta, Seminole, Daphne!
We're a part of the largest group of party rental experts in the industry and this helps us keep our inventory and business fresh and exciting. We keep up with the latest and greatest designs, themes, and trends to provide our customers with the best slide around the world.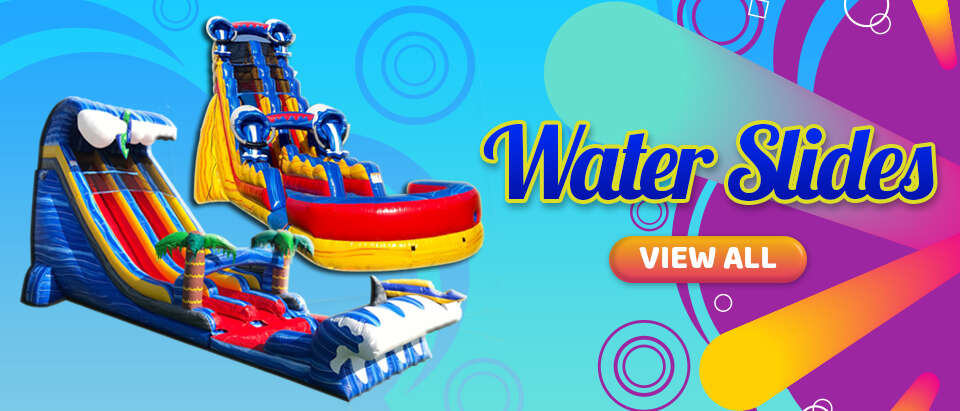 Start Your Rental
Water Slide Rentals Frequently Asked Questions (FAQs)
Q.
Why should I rent from Mobile Party Solutions??
A.
We're glad you asked! There are 3 primary reasons why we offer you the best value.

First, our inflatables are less than 3 years old, offer the latest safety features, and are cleaned and sanitized before every use. The other guys often have old inventory that's dirty and dingy. They buy used inventory to lower their costs so they can offer you an attractive price.

Second, we are a full-time party rental company. That allows us to provide superior customer service to our clients.

Third, we show up when we say we're going to. Your event only happens once and starts at a certain time. You simply cannot afford to hire a company that may, or may not, show up. Avoid the surprises and rent from a trusted source – Mobile Party Solutions.
Q.
Does the price include set up and delivery?

A.
Delivery within 30 miles of our Loxley location is no additional charge. Set-up, teardown, and pick-up is also included.

Travel fees are added for areas over 30 miles from our location. We do our best to keep our prices reasonable, but excessive travel adds cost to our end and we have no choice but to pass them along to our customers.

Check out our "Delivery Areas" page for a map to help determine travel fees. Feel free to give us a call if you're not sure if a fee would apply for your location.
Q.
My reservation is at 9am. Will I receive the inflatable at this time?
A.
When making your reservation, we ask that you put in your event start time and event end time. Our Standard rentals are for 8 hours, but additional time can be booked.

We ensure that your inflatable will be set up and ready to go by the event start time. The event end time is the earliest time you can expect us to pick up the unit.

During our peak seasons, we may need to deliver your inflatable several hours in advance. You may receive your unit as early as 7 am. There is no charge for this additional time, consider it our gift to you! Likewise, for pick up, we will arrive at or after the event end time you chose.

Our delivery schedule is based on event location and event time, so we ask that you are flexible with your delivery time. If you cannot take delivery of the unit at the scheduled time (as early as 7 am), you may receive your item after your scheduled time. You can expect a call, text, or email with your delivery window, on the afternoon prior to your rental.

If you know you have a limited delivery window, please let us know well in advance of your rental. With sufficient notice, we will do everything possible to accommodate your schedule.

It's important that you are ready for the delivery at your scheduled time. The area where the inflatable will be set up needs to be easily accessible and clear of debris (rocks, sticks, dog droppings, etc). Please have an adult onsite during the arranged delivery window and be sure the setup area is prepared.
Make Your Reservation Online
We have tried to make the process as easy as possible. We partnered with the best rental software platform on the market to bring you an easy and efficient way to book and keep track of your rental, with our contact-less delivery and ordering process.
Just simply select the date of your event and our system will show you what party equipment is available for that date and time. Need your rental a little longer or have a big event coming up you want to make sure every detail is in place? Contact us today and we can work together on planning the most amazing event ever!
Cheap Water Slide Rentals
We do not offer cheap water slides, we do however have the best line of affordable bounce house rentals in Foley AL and the surrounding area. Our equipment is made of high-quality, lead free, commercial materials that are built to take the abuse of... kids being kids for years to come. We maintain high-standards and also clean and inspect our equipment regularly to ensure our rentals are ready for your party.
Read More